Search Engine Optimisation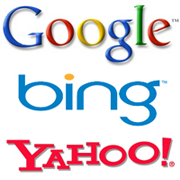 Search engines such as Google, bing, and Yahoo access websites using automated scripts called spiders. Using closely guarded and frequently changed algorithms they calculate which keywords best represent each website.
When we build a new website we always ensure that it is optimised for search engine spiders to access all it's pages.
The aim of optimisation is a simple one, to represent content that promotes the correct keywords that users are most likely to enter in order to find your site.
Knowing which keywords to target is a process of educated guesswork and trial & error. Once keywords have been chosen the content of the site should include these keywords or key phrases.
The main problem with targeting a single keyword is that you place yourself against worldwide competition. Search engines rank results based on the suitability of the keywords and the ranking of the site. Generally the larger and more popular the site the better rating they are given. This makes it very difficult for a new business to compete with established and larger websites.
Our recommended approach is to select two or three key phrases, that is groups of three keywords which users are likely to enter in combination. For example, we use "Web Design Devizes" and "Web Design Wiltshire" rather than going up against the whole world and trying to reach customers with the keywords "web Design".
We recommend the following content elements are focused upon:
Keywords that are used in your key phrases should be included in your homepage title.
Site Title and Tagline is very important, as this is what search engines will display on their results page.
The <h1> (heading) tag for each page should contain the keywords that the page represents.
The <h1> tag on the homepage should reflect the contents of the entire site.
If you have a CMS, ensure you provide fresh content regularly. A blog is a good means to provide regular updates to a site.
Use Flash software sparingly. This language relies on images and search engines cannot see it's content.
The use of images in menus is not advised, but if used the image should have an alt tag and title detailing the link name.
If you have multiple domains directed at the website, designate a single domain that all domains will resolve to. This process is called URL canonicalization.
Page Ranking is another important aspect to getting your site a strong showing on search engines:
Popularity of your site is the most important factor to site ranking, building a reputation for quality is much more successful than trying to trick search engines.
Links from sites of similar content to your site is one of the best ways of increasing your page ranking. However do not forget they will expect the same in return.
Avoid the temptation to get involved in mass linking services, search engines will penalise sites that are considered to be using such services.
In conclusion, be aware of the importance of search engines to your website but do not lose focus that the most important feature is the content, and not methods of trying to trick search engines into giving your site a better rating than it deserves.